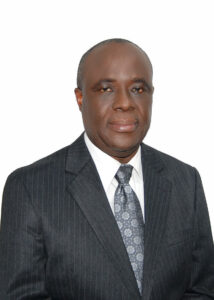 Anthony Kofi Godzi ACTING DIRECTOR, TECHNICAL SERVICES
Anthony Kofi Godzi was appointed Acting Director of Technical Services of the Ghana Grid Company (GRIDCo) in August, 2021.
He is responsible for Network Performance & Reliability; Asset Management; Project Monitoring & Evaluation; Health & Safety Management and Fleet Management in the Company.
Ing. Godzi joined Volta River Authority (VRA) in 1988 as Assistant Mechanical Engineer. He was later transferred to GRIDCo as Area Manager. He has since worked in various capacities including, System Transmission Lines Engineer; Area Manager for Power Operations in Accra/Tema, Takoradi and Northern Ghana Operational Areas. Until his recent appointment, he was the Senior Manager responsible for the management and operation of power system infrastructure and facilities in the southern part of the National Interconnected Transmission System of Ghana (NITS) under the jurisdiction of the Southern Network Services Department.
Anthony holds a BSc. (Hons.) degree in Mechanical Engineering from the Kwame Nkrumah University of Science & Technology (KNUST) and an MSc. degree in Maintenance Engineering and Asset Management from The University of Manchester, UK. He is a member of the Ghana Institution of Engineers (GhIE).