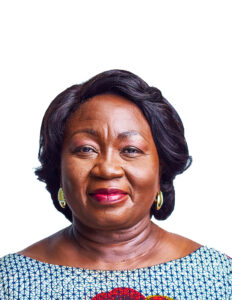 Hon. Patricia Appiagyei MEMBER
HONOURABLE PATRICIA APPIAGYEI was appointed to the Board in July 2021.
Her career experience covers thirty-nine (39) of playing key leadership and political roles including Deputy Minister for Environment, Science, Technology and Innovation, Member of Parliament for the Asokwa Constituency and first female Mayor of Kumasi Metropolitan Assembly.
Honourable Appiagyei is a Nobel Peace Prize Winner (West Africa Nobles Forum, 2006), and a recipient of the Star of the Volta in 2008.
She is an alumnus of St. Louis Secondary School.